Financial Professional Authorization
Financial Professional Authorization
Account Owners Can Authorize An RIA To Have Three Levels Of Account Management Access.
Get immediate online access to your clients' Ascensus-
administered 529 plans with 529 QuickView. No more sorting
through stacks of paper, fumbling through files, or waiting for
the latest account information to be mailed.
VIEW THE ENROLLMENT FORM
RIA Authorization can be provided using
page 3 of the paper enrollment form.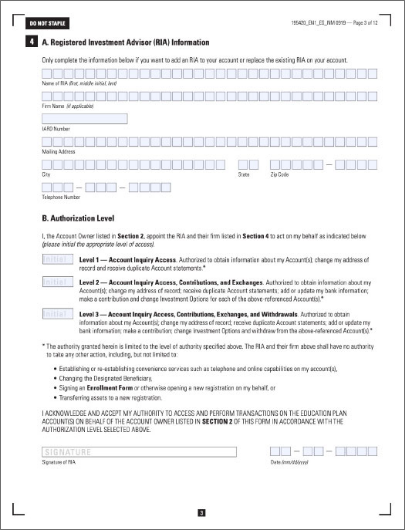 ways to gain account authorization as an RIA
1
Level 1 - Account Inquiry Access
Authorized to obtain information about Account(s); change address of record and receive duplicate Account statements.*
2
Level 2 - Account Inquiry Access, Contributions and Exchanges
Authorized to obtain information about Account(s); change address of record; receive duplicate Account statements; add or update bank information; make a contribution and change Investment Options for the Account(s).*
3
Level 3 - Account Inquiry Access, Contributions, Exchanges, and Withdrawals
Authorized to obtain information about Account(s); change address of record; receive duplicate Account statements; add or update bank information; make a contribution; change Investment Options and withdraw from the Account(s).*